Artists attempt to provide varying degrees of insight into life's big questions. Theologians attempt to provide answers. The flashlight of the former can be vague, provocative, crass or subtle. The torch of the latter is direct, unwavering.
To this day, I'm unsure which Romeo Castellucci is.
"Hey! Gimme your email/phone#/facebook profile! We gotta keep in touch!"
"Sure thing! It's been so great getting to know you. Let's definitely get together and have a bottle of wine. It's been so frustrating playing footsies under the table, letting our imaginations run wild during rehearsals!"


-or-

"You bet. Let's do that. We'll be seeing each other at [insert upcoming gig here] anyway. Stay in touch and we'll plan actually doing something at the next gig, rather than hiding out in our respective hotel rooms and being hermits, afraid of getting sick."
"Absolutely! Don't you just hate that? Anyway, see ya soon!"
Either way, the result is always the same. At most, a facebook connect, certainly no meaningful emails ever exchanged, and hopefully not a hook up. Most of us
pay attention
only to what is right in front of us, and so going home or off to next gig dissuades oneself from meaningful, long-term discourse.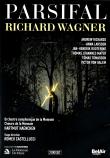 There are, of course, extraordinary exceptions, and the La Monnaie Parsifal was just that. (Order it
here
or
here
.) 2 years later, I'm in near-daily touch with many of the
Parsifools
, as the hundreds of supers who appeared in Romeo's production call themselves. I've received letters in my dressing rooms, emails, flowers, phone calls, even meeting up in cities far from their own: Brussels. There was a deep camaraderie like which I have never seen before or since. And without it, I would definitely not be writing today, much less performing.
It was a time of destruction: artistically, personally, philosophically. I almost begin to shake as I contemplate watching the DVD. I don't think I'll be doing it anytime soon. Or perhaps I will.
In classic "
6-degrees of Kevin Bacon
" I'm in Paris today, about to perform the final performance of the Eric Lacascade production of Spontini's
La Vestale
. The destruction left in the wake of Romeo gave new life. Eric and Romeo happen to be very good friends and it was then, as Eric learned of me through Romeo, planning his production of La Vestale with Theatre des Champs Elysées was my name brought into things. As you will see, their personal artistry is related, both seeking economy and balance…through very different methods and philosophies.
Fast forward from 2011 to now, climbing back onstage in the remounting of the
Bieito Parsifal
in Stuttgart in March of 2013, after a serious sabbatical, did I find myself finally singing for Eric Lacascade, himself having come from Paris to see me onstage, and (at least in my own mind) be sized up as to my ship-shapeness for the upcoming Vestale. We met over dinner afterward and I did my best to allay any fears. I don't mind saying, I've been nervous having "work sessions" with conductors but never anything like that. I needed to work and get back on my feet. The Met debut was not as I had wanted and getting back on the horse was far harder than I anticipated.
Since I find that this current production will also go into DVD release, I've decided to document what I believe is an equally important production. But for now I wish the entire cast, crew and colleagues a great final performance of Spontini's La Vestale. And I remember I am here today, happier and more fulfilled than I have ever been, because sometimes
destruction can be delicious
.
Next Up
:
Recollections of Meeting Eric Lacascade